View all posts
Kansas Ballet
By: Lisa Loewen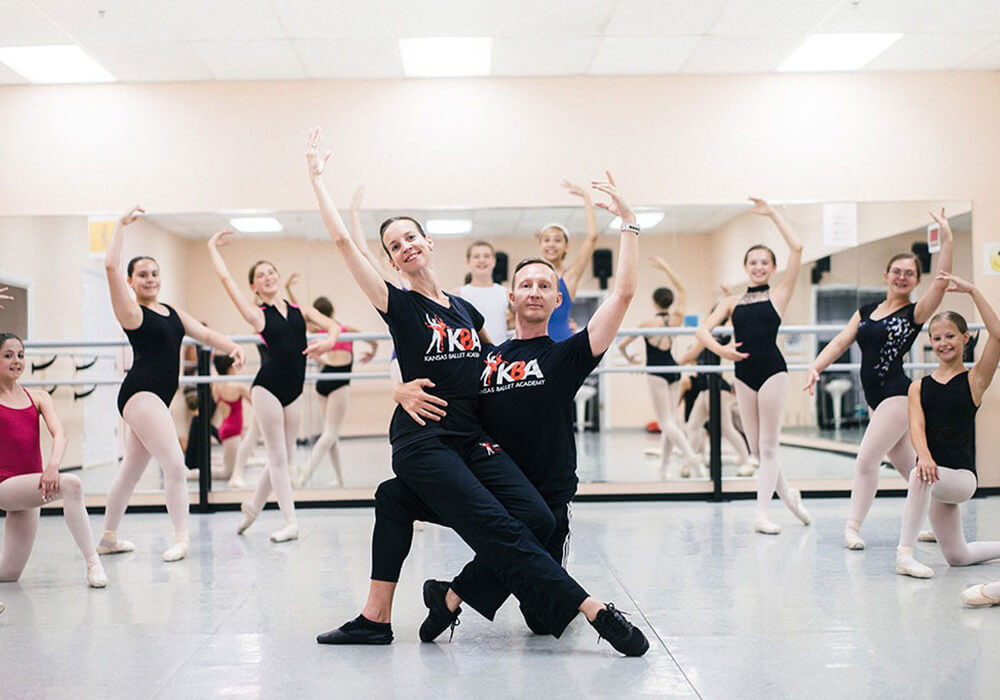 The story of Kansas Ballet is a love story. A local girl following her dream to become a professional ballerina meets a boy from a faraway land who shares that same dream. They marry, return home and inspire others to love dance, and live happily ever after. In this simplistic fairytale, the road to a happy ending is effortless. In reality, the work required to make their dreams come true has been staggering.
Husband and wife team, Alexander Smirnov and Stephanie Heston, may come from different continents, but their vision to instill the love of dance in others knows no boundaries. As the owners of Kansas Ballet, Alexander and Stephanie hope to inspire young dancers to follow their own dreams.
"We were lucky enough to be able to make our own dance dreams come true," Stephanie said. "Now we want to help make that happen for others."
Stephanie grew up in Topeka, graduated from Seaman and danced her way straight to New York to pursue a career in dance. After rising to the position of principal ballerina with the New York company, she wanted to broaden her ballet training, so she joined a company in Indianapolis that had a Russian director. That is where she met Alexander.
Alexander grew up in Russia, studied ballet in St. Petersburg and quickly rose to the position of principal dancer in the prestigious company. From Russia, he moved to Argentina to dance for four years and then on to Indianapolis. Because dancers spend almost all of their waking hours in the studio, Alexander and Stephanie literally fell in love while dancing.
Their careers eventually took them to Minnesota. While Alexander continued as principal dancer, Stephanie's vocation took a different direction: teaching. Serving as artistic director and instructor for multiple ballet academies, she discovered a passion for forging young people into lifelong dancers.
"I wanted to create a curriculum that I wish I had when I was growing up," Stephanie said. "What we have developed is programming for the 12-year-old me."
When Alexander and Stephanie moved back to Topeka in 2012 to fulfill their ultimate dream: bring professional ballet to Kansas, they knew it would take more than simply opening a ballet studio. They needed to create a way to bring in professional performances as well. They started the nonprofit Kansas Ballet Company to support classical ballet training, bring in professional dancers for local performances and support the local community by offering free ballet training to under-served youth in the community.
"We believe everyone can dance," Alexander said. "They just need to be given the opportunity and the right training."
Providing those opportunities takes hard work and the help of community partners. One of those partners that has been helping Kansas Ballet since the very beginning has been Envista Credit Union.
"We have been banking with Envista since we moved back to Topeka," Stephanie said. "They support our community efforts, and we love that."
Now in its sixth year, Kansas Ballet has expanded its studio space, offers summer intensives and master classes, and has provided more than 90 free ballet performances to Northeast Kansas since 2013. However, that isn't quite enough for Alexander and Stephanie. They eventually would like to put together a youth company to offer even more dancing exposure to young people in Topeka and the surrounding areas.
"Topeka should have a lot of opportunities," Alexander said. "Ballet is an art form, and we want to bring that wider world of dance to Topeka. The art of ballet is kept alive when it is passed down from teacher to student. We want to preserve that art form."
---
Photo by David Vincent
Article written by Lisa Loewen
Lisa Loewen teaches journalism at the University of Kansas since 2004 and is editor-in-chief of TK Business Magazine. Her extensive writing experience includes magazine, newspaper and broadcast, advertising copy for print and television, as well as academic articles.