View all posts
EnvistaCares Challenge Announces Sunrise Project Donation Results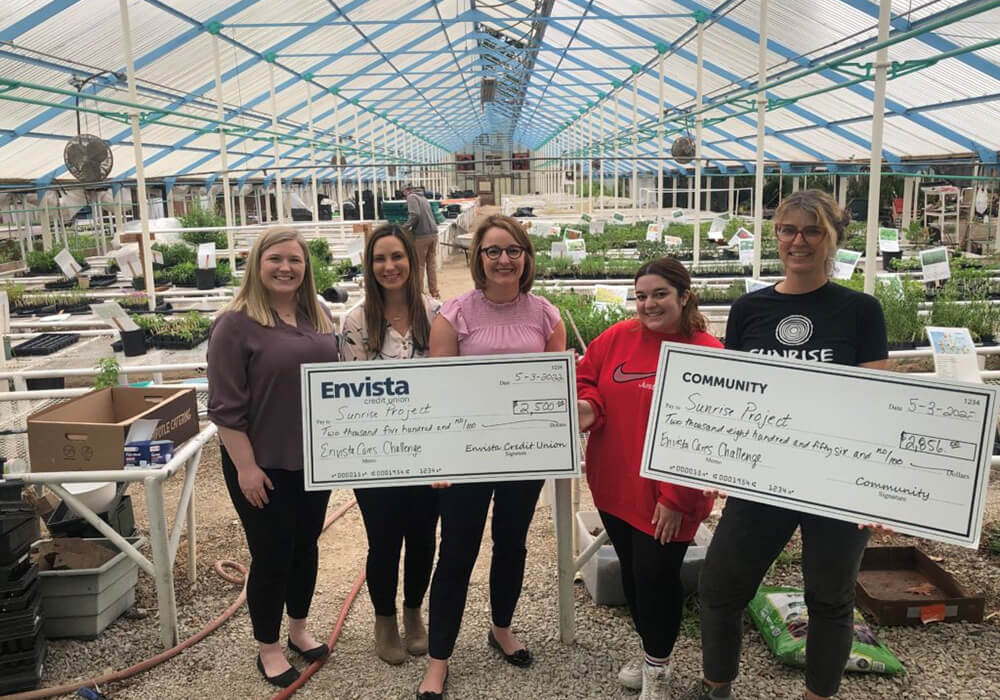 Sunrise Project and Envista Credit Union are pleased to announce that thanks to community support totaling $2,856, Sunrise Project will receive the challenge match of $2,500 from Envista. In total, $5,356 in contributions were received during the month of April. In addition, Envista provided Sunrise Project with marketing and media promotion that included radio, emails, online ads and social media.
"Envista is a proud to spotlight Sunrise Project and support their commitment to the Lawrence community," said Tara Dimick, chief business development officer for Envista.
Sunrise Project serves Douglas County by providing space and opportunities for people of all ages and backgrounds to build an equitable community through education and their food pantry, community meals, gardens and orchard.
"Sunrise Project shows up in pragmatic, yet innovative ways to fill the gaps in our community services," said La'Pourchea McConico, board president of Sunrise Project. "We are grateful for the continued support from our community, which makes this work possible."
The EnvistaCares Challenge was created in April of 2019 to impact community giving. To date, the Challenge has helped raise more than $600,000 for local organizations. In 2021, Envista added the gift of a personalized high-quality video to the challenge.
"Marketing dollars for nonprofits are in short supply and we wanted to be sure that the impact of the EnvistaCares Challenge could last beyond one month," said Dimick. "We wanted to help provide a tool that local organizations could use for many months or even years to come."