View all posts
EnvistaCares Challenge Announces Safe Kids Kansas Donation Results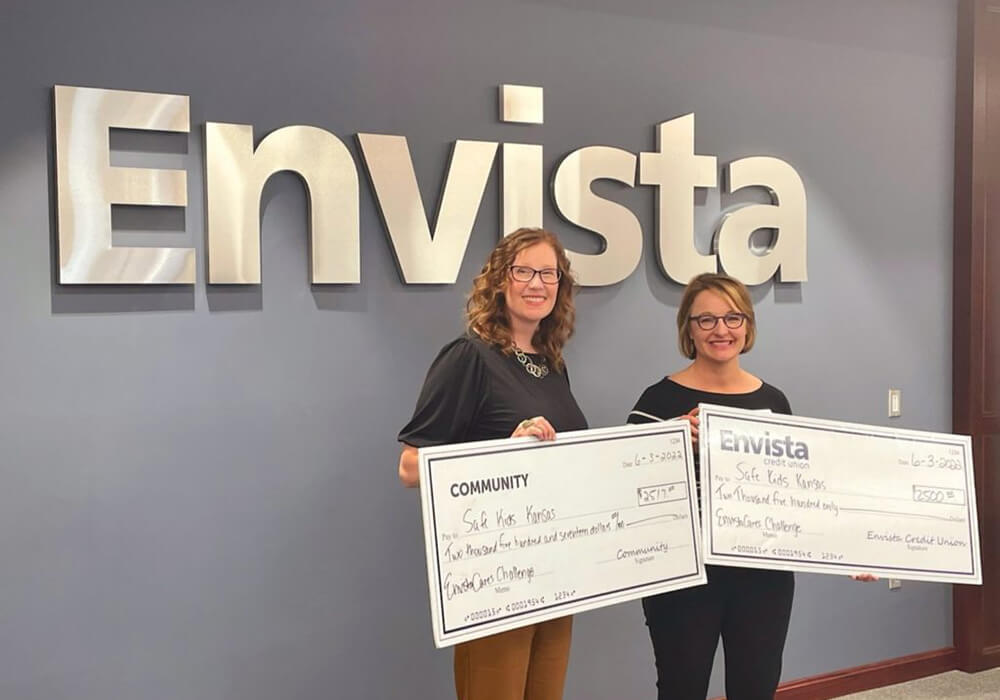 Safe Kids Kansas and Envista Credit Union are pleased to announce that thanks to community support totaling $2,517, Safe Kids Kansas will receive the challenge match of $2,500 from Envista. In total, $5,017 in contributions during the month of May.
Safe Kids Kansas is a non-profit coalition of partners and local coalitions dedicated to preventing childhood injury. Each year one out of four children needs medical attention due to unintentional injury. The good news is most of these injuries are preventable and Safe Kids Kansas works across the state to reduce these risks.
"I have had the great opportunity to see first-hand the benefits of Safe Kids Kansas, said Daina Zolck, director of injury and violence prevention programs, Kansas Department of Health and Environment. "From the relief and empowerment of new parents being educated on how to use their baby's car seat to the excitement of state and community partners working together for a common mission, the collective impact of Safe Kids Kansas is safer kids."
The EnvistaCares Challenge was created in April of 2019 and has helped raise more than $460,000 for local organizations. The Challenge includes an in-kind gift to the organization of a media buy that is valued at more than $10,000 and a $2,500 challenge grant. The media buy includes radio, emails, online ads, social media and interviews. The challenge grant provides a dollar-for-dollar match up to $2,500 for gifts given during the month that the organization is spotlighted. In 2021, Envista added an evergreen video to the gifts so that each organization could have a quality video that could tell their story.
"It is our goal to highlight and support organizations like Safe Kids Kansas that are doing amazing work in our community," said Grace Greene, Marketing Coordinator of Envista. "It is exciting to see the community step up to the challenge to assist Safe Kids Kansas in their efforts to prevent childhood injury in Kansas."
"We found that marketing dollars for nonprofits are in short supply and we wanted to be sure that the impact of the EnvistaCares Challenge could last beyond one month," said Tara Dimick, chief business development officer for Envista. "We wanted to help provide a tool that local organizations could use for many months or even years to come."