View all posts
EnvistaCares Challenge Results Announced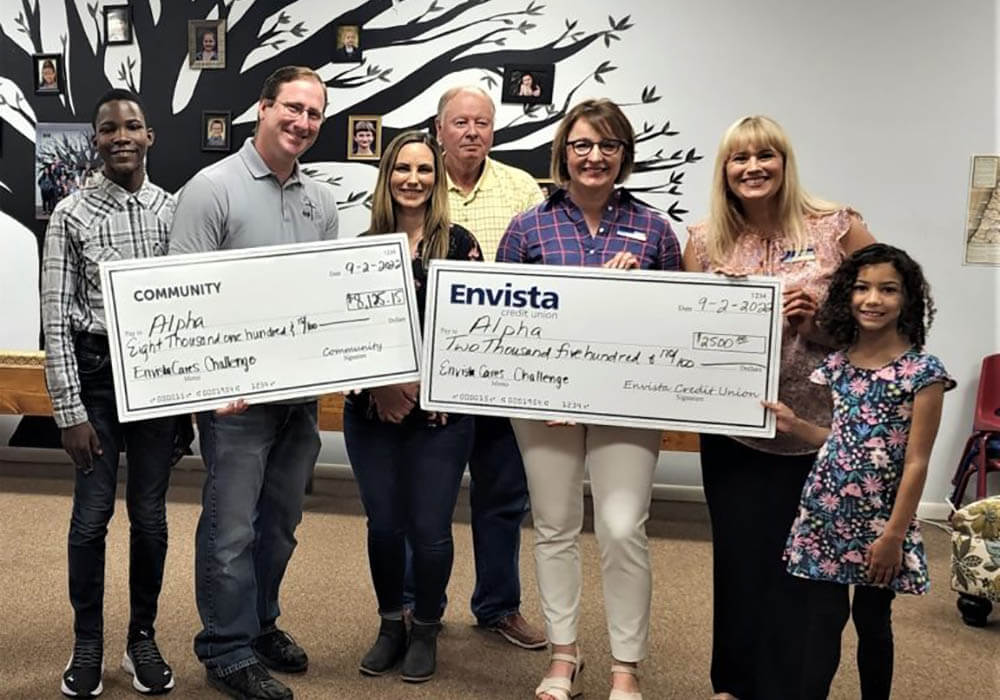 Alpha Christian Children's Home and Envista Credit Union are pleased to announce that Alpha Christian Children's Home will receive the EnvistaCares Challenge gift of $2,500 from Envista as a match to the generosity of the community's donations of $8,125.15. In total Alpha Christian Children's Home received $10,625.15 in donations during the month of August.
"Alpha is a great place", said Representative Ronald Ellis. "The stories you hear of the kids who come here is just wonderful; they are given a safe place to live, an education, and responsibility – like how to save money, take care of animals and present at 4-H."
"The support Alpha received through the EnvistaCares challenge will cover the school supplies and curriculum for the school for the entire year, said Jeff Mulpas, director of development for Alpha. "We are grateful that Envista Credit Union and our community has seen the needs of our children and is partnering with us to continue this mission."
Alpha was founded in 1972 from a generous land gift from founders Anne Snavely, and her late husband, Jack. Alpha's mission is to provide a unique home and school for children infant to eighteen, for as little or as long as they need. Their staff and teachers are dedicated professionals trained to help the youth whose lives are in serious turmoil because of family or personal life crises. Alpha is designed to give children security and stability by providing a structured and loving home life in a restorative rural setting, providing opportunities to experience unconditional love, heal, succeed academically, and move towards responsible adulthood.
"Our goal at Envista is to lead, inspire and make an impact with our giving," said Secily Rees, market development officer for Envista. "We are inspired by the leadership of Alpha Christian Children's Home and their commitment to improving the lives of children."
The EnvistaCares Challenge was created in April of 2019 and has helped raise more than $600,000 for local organizations. The Challenge includes an in-kind gift to the organization of a media buy that is valued at more than $12,000 and a $2,500 challenge grant. The media buy includes radio, emails, online ads, billboard, social media and interviews. The challenge gift provides a dollar-for-dollar match up to $2,500 for gifts given during the month that the organization is spotlighted. In 2021, Envista added the production of a storytelling video that the organization could use beyond the EnvistaCares Challenge experience.