View all posts
Martinek & Flynn: A Family Foundation
By: Samantha Egan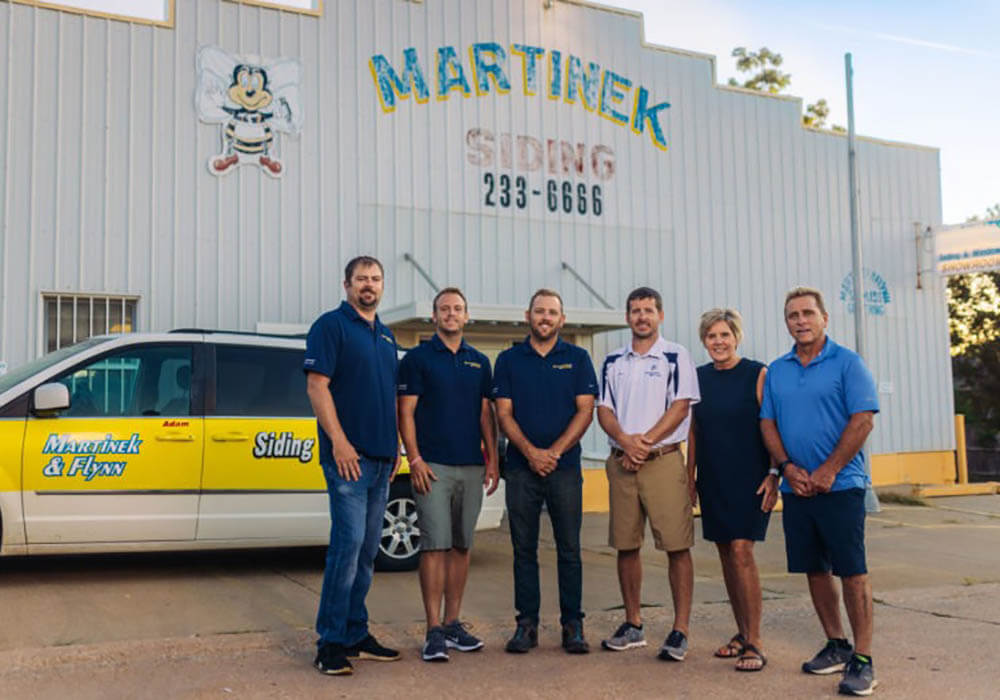 Four Generations Later, Martinek & Flynn Continues to Pursue Growth
When Martinek & Flynn Siding & Windows says they are a family business, they mean it. In business since 1957, the company is now in its fourth generation of helping homeowners keep up their curb appeal.
When brothers Clarence and Steve Martinek started the business, they worked out of their garage on siding projects for decades. But when they handed the business off to the next generation, things evolved quickly. Clarence's sons, Darrell and Mark, along with his son-in-law, Rick, joined forces with Steve's son, Craig, to form Martinek & Flynn in the early '90s. Since then, the business has grown into a true home improvement company, offering windows, awnings, patio covers, doors and other services.
For Darrell, expanding meant giving clients what they wanted.
"We spent time listening to customers who asked if we did other things," he said. "We waited to jump until we felt it was the right time."
Darrell said one of the most satisfying aspects of expanding is seeing their impact on the homes they service.
"I'm always ambitious," Darrell said. "I like to do things when we see a big improvement in the house and customers see a difference."
Having a family-run business isn't just a point of pride for Darrell and the team. He said it also means something to the customers who have used Martinek & Flynn for decades.
"We end up doing projects for parents and their kids," Darrell said. "They always see the same people on the job, and that's big."
While the company has its showroom in Topeka, it serves clients well beyond city limits, sending its signature yellow trucks to Lawrence, Manhattan, Kansas City, Burlingame, Burlington, and the surrounding communities. Darrell's wife, Brenda, office manager of Martinek & Flynn, says they've worked on homes as far as Nebraska.
Martinek & Flynn's commitment to their clients goes beyond the number of miles they're willing to drive. The team prides itself on being quick to get out to provide estimates, along with good communication.
"There are a lot of questions that come up when you're spending that much money on your home," Brenda said. "As a consumer, I like to see the product and know what I'm getting."
Martinek & Flynn's showroom helps customers see and feel what they're purchasing. Seeing the product not only helps customers make decisions, it also builds trust.
"It shows we're established," Brenda said. "We'll be here years later to take care of repairs."
When it comes to choosing a financial institution for their accounts and business loans, Brenda and Darrell work with Envista Credit Union for the same reasons Martinek & Flynn customers work with them: reliability and trust.
While they appreciate the great rates and customer service Envista offers, they especially value the relationships they've built throughout the years.
"Our relationship with Envista started small, but it's expanded as we've grown," Brenda said. "They've done well in keeping us aware of products that would be better for our money."
As he looks back on Martinek & Flynn's accomplishments, Darrell said he's proud of what the next generation, which includes his and Mark's sons and Craig's grandson, has already accomplished with the business.
"We've worked hard to build a name and keep it to standards," Darrell said. "It's great to see the company grow and the boys doing good."
---
Article written by Samantha Egan
Photos by John Burns