View all posts
EnvistaCares Challenge May Rise Up Reno Results Announced
06/01/2023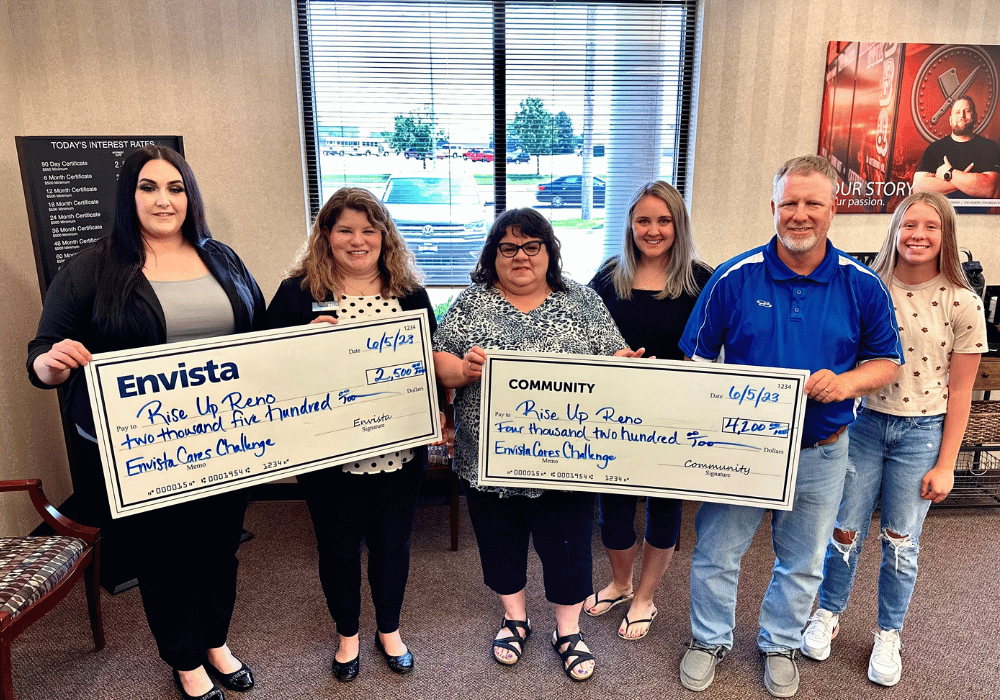 Rise Up Reno and Envista Federal Credit Union are pleased to announce that Rise Up Reno will receive the EnvistaCares Challenge gift of $2,500 from Envista as a match to the generosity of the community's donations of $4,200. In total Rise Up Reno received $6,700 in donations during the month of May.
Rise Up Reno promotes healthy youth behaviors in Reno County through mentoring, substance use prevention, suicide prevention, strengthening families and youth leadership.
"We are grateful to have this opportunity to partner with Envista. Supporting Rise Up Reno in any capacity, including the EnvistaCares Challenge, helps us to empower and make a positive impact in our community members lives. By building caring relationships, providing knowledge through our programs and resources, we work to develop healthy environments across Reno County," said Carla Smith, executive director for Rise Up Reno.
"Our goal at Envista is to lead, inspire and make an impact with our giving," said Erika McNeill, engagement coordinator for Envista. "We are inspired by Rise Up Reno and their commitment to take action to rise up their community."
The EnvistaCares Challenge includes a challenge grant and a media and marketing package. Through the challenge grant, Envista will match the first $2,500 donated to Rise up Reno during the month of May. Giving can be done online at www.envistacares.com. The media package provided by Envista is valued at $10,000 and includes a month of promotion through emails, social media, radio, and more.
The EnvistaCares Challenge was created in 2019 and has helped raise more than $670,000 for local organizations. Envista Federal Credit Union helps members achieve their financial goals by providing quality products and services. Envista currently has approximately $540 million in assets and serves more than 45,000 Kansans with offices in Topeka, Lawrence, and Hutchinson. For more information visit www.envistacu.com.