View all posts
Surprise Check Donations Totaling $4,501 to 21 Lawrence Schools
10/17/2023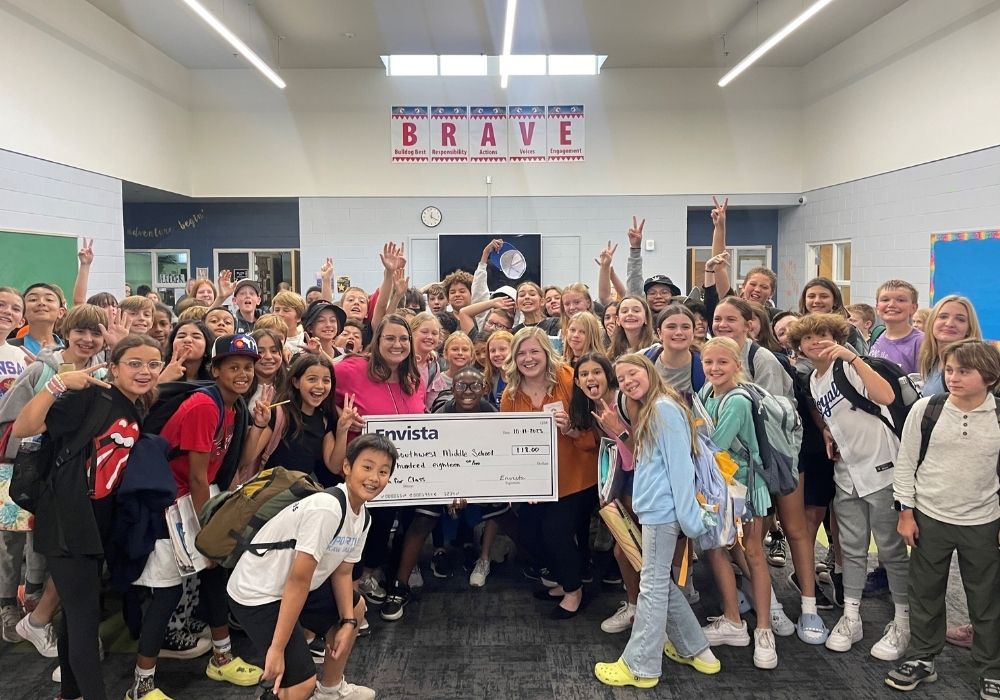 Envista is kicking off International Credit Union Week, October 16-20, introducing a "Roots of Kindness" campaign. Our dedication extends far beyond the realm of traditional banking, and we are passionate about nurturing the community and fostering a ripple effect of kindness. We have been actively cultivating a culture of kindness, and to start the celebration, we had the pleasure of surprising 21 Lawrence schools with a check donation.
Giving began at the Annual Lawrence Chamber event, Taste of Lawrence, where we invited members, the community, educators and students to step into the Envista "Cash for Class" money machine at our booth. Inside the money machine, participants had mere seconds to collect as many dollars as they could. These dollars, generously collected, were earmarked for a donation to the Lawrence school of their choice. Moved by the overwhelming response, 170 individuals took up the challenge. In the end, a total of $4,501 was gathered, and this sum was then distributed to the 21 Lawrence schools the week prior to International Credit Union Week.
The following Lawrence schools were the deserving donation recipients:
Community Connections at Pinckney (previously Pinckney Elementary School)
Cordley Elementary School
Deerfield Elementary School
Friends of Raintree (Raintree Montessori School)
Hillcrest Elementary School
Kennedy Early Childhood Center
Langston Hughes Elementary School
Lawrence College & Career Center
Lawrence Free State High School
Lawrence High School
Lawrence Juvenile Detention Center Day School
Liberty Memorial Central Middle School
New York Elementary School
Prairie Park Elementary School
Quail Run Elementary School
Schwegler Elementary School
Southwest Middle School
Sunflower Elementary School
Sunset Hills Elementary School
West Middle School
Woodlawn Elementary School
"International Credit Union Week serves as a reminder of the Envista Difference, the promises we make to our members and community, and how we take care of people. These educational institutions play a vital role in shaping the future of our community and they embody the seeds of growth and opportunity. Nurturing these seeds is a privilege and Envista is committed to supporting the community by empowering these schools and contributing to the growth of our shared future," said Erika McNeill, Engagement Coordinator at Envista.