View all posts
Stearns Super Center
By: Lisa Loewen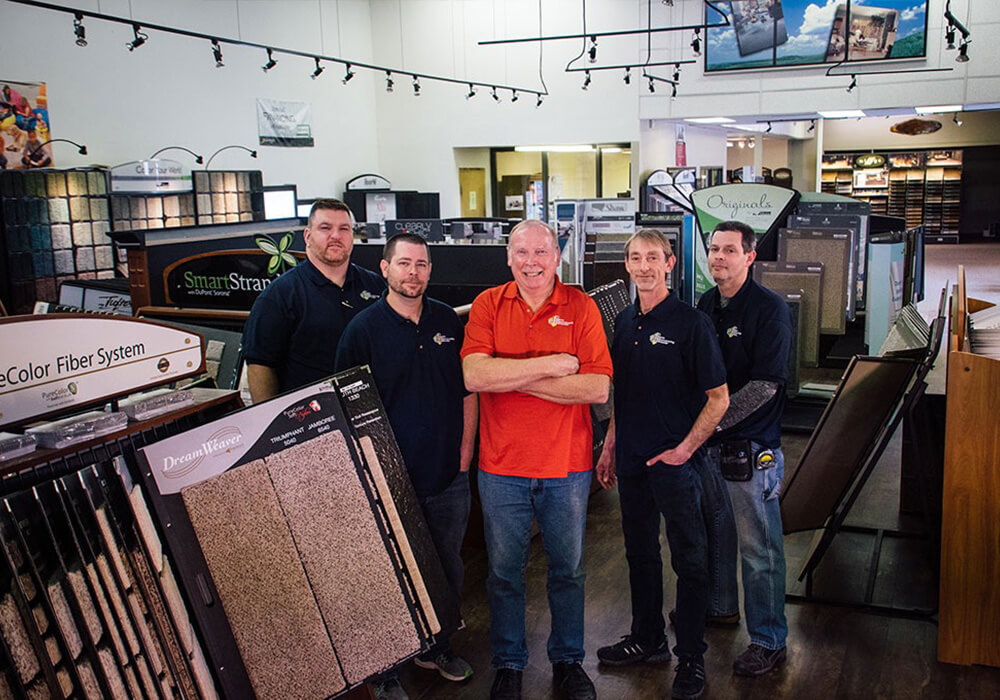 It can be difficult for a small, specialty-flooring store to survive in a world where big box stores and online shopping have taken over the market. However, Stearns Super Center in Topeka is thriving because it offers something those others can't: unparalleled customer service.
"We are here from the time you first show up to look at possibilities through the entire process, until you are walking on your new floor covering," Owner Steve Lowry said.
Stearns Super Center has been serving the Topeka community since 1929; however, Steve is relatively new to the business, having purchased the company in 2011.
Steve was already somewhat familiar with Stearns Super Center because as the owner of multiple rental properties he was in and out of the store all of the time. On a whim, he asked the owner if he was interested in selling the business. Two years later, Steve took over the company. While he was good with the numbers (Steve holds a PhD in statistics), Steve had to learn the ins and outs of a retail-flooring store.
Steve attributes most of the store's success over the past 15 years to his knowledgeable team, many of whom were working at the company long before Steve took over as owner.
"I couldn't do this without them," Steve said. "I learn more from them than they do from me."
Steve knew from day one that he wasn't going to try to manage the store. He serves as the visionary, setting goals, looking at the big picture. He leaves the daily operations up to Heath Ketron, who has been employed at Stearns Super Center for more than 20 years. During that time, Heath has seen the industry change. Big box stores have cut into the profit margins, but they can't offer the same level of expertise and customer service as a store specializing only in flooring.
"Our quality is better here," Heath said. "Our selection is better. Our service is better. You won't find that at those other stores."
Larry Moore, who has also been with the store for the past 20 years agrees, and said one of the biggest problems with the large megastores is the high turnover rate internally—something Stearns Super Center doesn't contend with.
"We all take care of each other here," Larry said. "We have each other's backs and we all work together to make the company a success."
Another more recent challenge local flooring stores such as Stearns Super Center face is the consumer shift to online shopping.
"I was naïve enough to think people wouldn't shop for flooring online," Steve said. "I was wrong about that."
While they may do their initial shopping online, according to Darren Cuffel, who has been with the store since 2005, customers still want to come in and talk to an expert before they actually buy.
"Our guys come with the product knowledge to help customers decide what is best for their needs," Darren said. "We actually hope they price shop us too because they will find we can offer competitive pricing as well as our expertise."
While Steve enjoys all aspects of the business, one thing means more to him than everything else.
"I get to help support five families with this endeavor," Steve said. "My employees invest heavily in me. I have to do what it takes to make sure their families thrive as well."
That passion for helping others also fuels Steve's drive to help his fellow business owners and his community. As an Envista board member, he sees first hand the difference a helping hand can make.
"When I started searching for a financial partner many years ago, I was horrified that none of the banks had any interest in doing business with me," Steve said. "Envista took a risk on me, and now I want that next guy who needs to borrow money—even if it's only $50—to have someone actually listen to them as well."
---
Photo by David Vincent
Article written by Lisa Loewen
Lisa Loewen teaches journalism at the University of Kansas since 2004 and is editor-in-chief of TK Business Magazine. Her extensive writing experience includes magazine, newspaper and broadcast, advertising copy for print and television, as well as academic articles.