View all posts
Technical Applications & Consulting
By: Lisa Loewen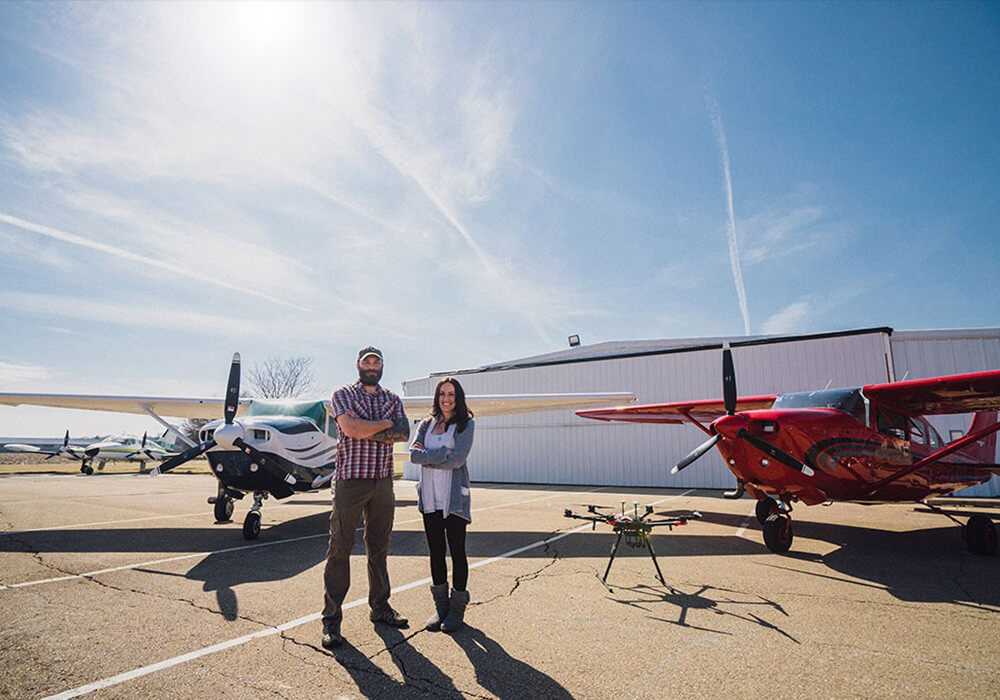 Orthophotography. Hyperspectral imaging. Oblique imagery. Light detection and ranging. All conducted by manned and unmanned aerial remote sensing. Sounds like something you would find in a Mission Impossible movie or a top-secret military facility. However, Technical Applications & Consulting puts that technology to work every day, right here in Topeka.
TAC pilots use state-of-the-art laser sensors and cameras to collect geospatial data and images for its clients. This data can be used to create digital elevation and terrain models, provide tree height analysis, calculate waste categories and sorting, determine optimal precision agriculture and much more. Their services have been used by engineering firms studying elevation issues, the Army Corp of Engineers when designing a levee system, departments of transportation across the country performing large scale road development, the federal government for flood plain analysis, law enforcement to recreate crime scenes, industrial surveys, and even border surveillance.
Owner Tracy Blocker established TAC as a Service Disabled Veteran-Owned Small Business in Kansas in 2011. Having operated this high-tech equipment for military and Department of Defense operations during his service in the military and as a private contractor after his discharge, Blocker understood the opportunity for similar applications in the private sector.
"Basically, this technology boils down to the simplicity of a 3-dimensional scanner," Blocker said. "We can get much better images than a satellite and provide much more accurate detail with high definition images that pinpoint latitude and longitude within 3 inches."
When Blocker grew tired of spending extended time away from his family, he decided to put his military training as a pilot and imaging specialist to work back home in Topeka. That was home base for his family, so that is where he chose to put down his business roots. It didn't hurt that Kansas happens to be the center of the aircraft industry.
"Aircraft technology here is incredible," Blocker said. "Between Wichita and here, we have the best mechanics in the industry."
Topeka also offers a central location to serve as a national hub of operations for a business that provides services all over the country.
"We go anywhere," Blocker said. "The only obstacle we face is weather. If we have clear skies, we are flying."
Using Cessna 306 airplanes fitted with laser sensors and imaging equipment, a pilot and a sensor operator collect aerial data specific to each client. That data is then converted into 3-D maps, infrared images and reports for industry specific applications.
For smaller scale projects, TAC also offers unmanned aerial data collection through the use of drones.
While the company continues to grow and take on more projects nationwide, Blocker says the main challenge is explaining the technology and how it benefits individual clients. As a small firm, they take the time to sit down with clients and take them step by step through the data collection process, so they understand exactly what type of information the client needs to acquire.
Blocker says he is excited by the emerging applications for the services TAC provides.
"The applications for aerial data collection is growing all the time," Blocker said. "Agriculture is beginning to use it for everything from determining when to apply fertilizer to evaluating crop damages for insurance purposes after a storm."
Of course, as with any industry, technology changes rapidly and the cost for new equipment can be astronomical—not to mention the cost of the airplanes that hold the equipment.
"I couldn't have done any of this without the help of a financial institution," Blocker said. "Envista has been more of a partner than just a bank for us. They understood that the equipment we needed to operate our business would require a lot of capital, and they were willing to take that risk because they believed in us."
---
Photo by David Vincent
Article written by Lisa Loewen
Lisa Loewen teaches journalism at the University of Kansas since 2004 and is editor-in-chief of TK Business Magazine. Her extensive writing experience includes magazine, newspaper and broadcast, advertising copy for print and television, as well as academic articles.