View all posts
SD Engineering, LLC: A Local Business with a Global Connection
By: Lisa Loewen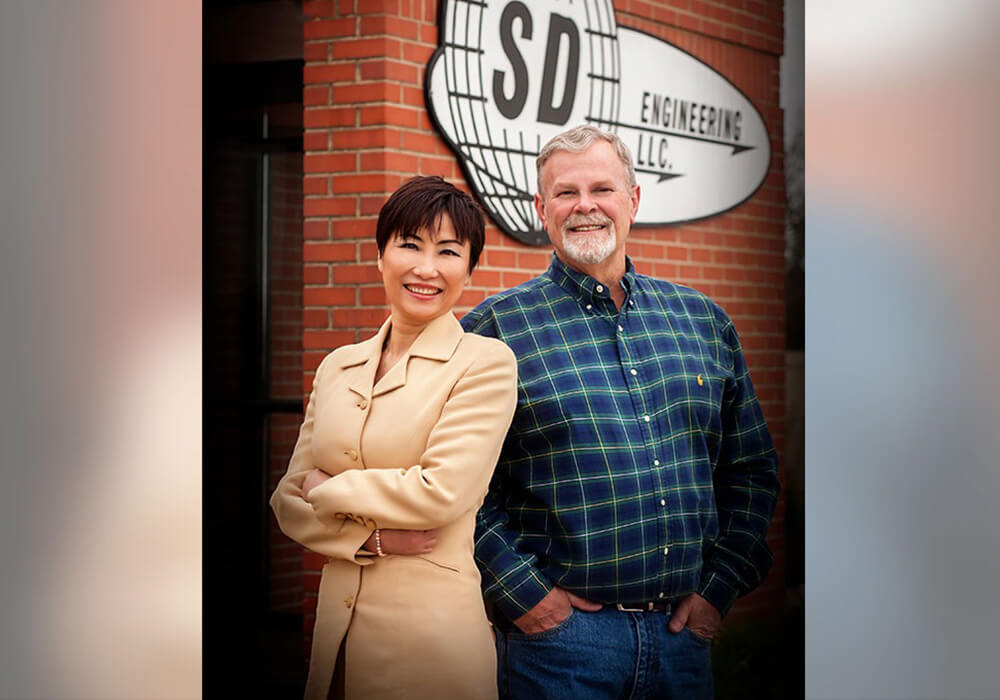 Steve and Janney Duncan started SD Engineering, LLC in 2006 in Dodge City. At the time, Steve was an engineer with International Technology Group (ITG) and Janney was CFO of a local credit union. This husband and wife team decided to capitalize on their combined skills and international connections to fill a niche in the engineering/manufacturing environment. However, their story actually began years earlier, on another continent.
As part of his job with ITG, Steve worked with production facilities in China to manufacture industrial equipment designed by engineers in Dodge City. Steve travelled to China two or three times a year to oversee the production of various products and maintain connections with facility personnel. On one such trip in 1999, Steve was enjoying breakfast at a hotel in Taian, when a young lady sitting at a table next to him caught his eye. Steve, who doesn't know a stranger, struck up a conversation and was intrigued to learn that she was also an engineer. They exchanged business cards and went their separate ways.
A year went by. Then one day, out of the blue, Janney received a call from Steve. He was back in China and wanted to get together. Thus began a long distance romance that found the couple saying their wedding vows a few years later.
In a whirlwind, Janney found herself transplanted from Beijing to Dodge City—a bit of a culture shock to say the least. With an engineering degree that she couldn't use in America, and a bit of a language barrier, Janney was at a loss of what to do. Steve encouraged her to find something she was passionate about. Money and finances fascinated her, so she went back to school and received an MBA degree as well as her CPA, and began working for a credit union in Dodge City.
Janney's engineering background, coupled with her understanding of the financial aspects required to run a business, sparked her entrepreneurial spirit. She knew that if they could combine what Steve was already doing in the outsourcing of products from China with her understanding of finance and the Chinese culture, they could successfully operate their own business.
"I'm good with strategy and planning," Janney says. "And Steve can sell anything. So it just seemed to make sense."
While still maintaining their existing careers, Steve and Janney opened SD Engineering and began working on sourcing for a company that offered livestock feeding equipment but wanted to reduce the cost of its products.
"Steve designed the product and created a prototype," Janney says. "And then I used my knowledge of both engineering and the Chinese language to help coordinate the sourcing to manufacture the product in China."
The combination was indeed successful.
"A lot of business in China is about trust and connections," Steve says. "Janney's ability to speak with the factory managers in their own language was critical to our success."
Slowly the business began to grow as SD Engineering took on additional products. After ITG experienced financial difficulties in 2008, Steve and Janney decided to pour all of their resources into growing SD Engineering. They stepped in to fill the void left behind after ITG went out of business.
"Customers were in desperate need of way to provide cheaper products," Steve says. "We knew we could fill that niche."
While this was a relatively easy decision for Steve, Janney was torn. She loved working for the credit union and would have had the opportunity to become CEO.
"I love the concept of a credit union—people helping people," Janney says.
Even though the credit union was near to her heart, the opportunity to build their own business won out.
They moved the business to Topeka in 2011 and when it came time to set up new bank accounts and finance a new home, Janney wouldn't even consider working with anyone but a credit union. So they went straight to Envista and have done business with them ever since.
"Eric is excellent to work with," Steve says. "We are fortunate to have had the opportunity to work with a lot of great people at Envista."
The business continues to grow. With 10 employees and an expanding base of loyal customers, Steve and Janney look forward to what the future has to bring. They view their employees as part of the family and treat them as such, even taking them all on a Cruise to the Caribbean and a trip to Jamaica.
"We are like one big family here," Steve says. "We take care of them and they take care of us."
That trust allows Steve and Janney to travel to China for several weeks without having to worry about leaving the business behind. Knowing that the business is in good hands gives them the freedom to immerse themselves in their travel experience.
One of their favorite destinations?
Li Jiang—an 800-year-old village in a mountainous area just outside of Tibet that adheres to older traditions. It respects the old culture and offers a glimpse into a simpler, more tranquil life.
SD Engineering, LLC may be located in the heart of Kansas, but its vision is worldwide.
---
Photo by Rachel Lock
Article written by Lisa Loewen
Lisa Loewen teaches journalism at the University of Kansas since 2004 and is editor-in-chief of TK Business Magazine. Her extensive writing experience includes magazine, newspaper and broadcast, advertising copy for print and television, as well as academic articles.