View all posts
CWC Electric: A Leap of Faith
By: Lisa Loewen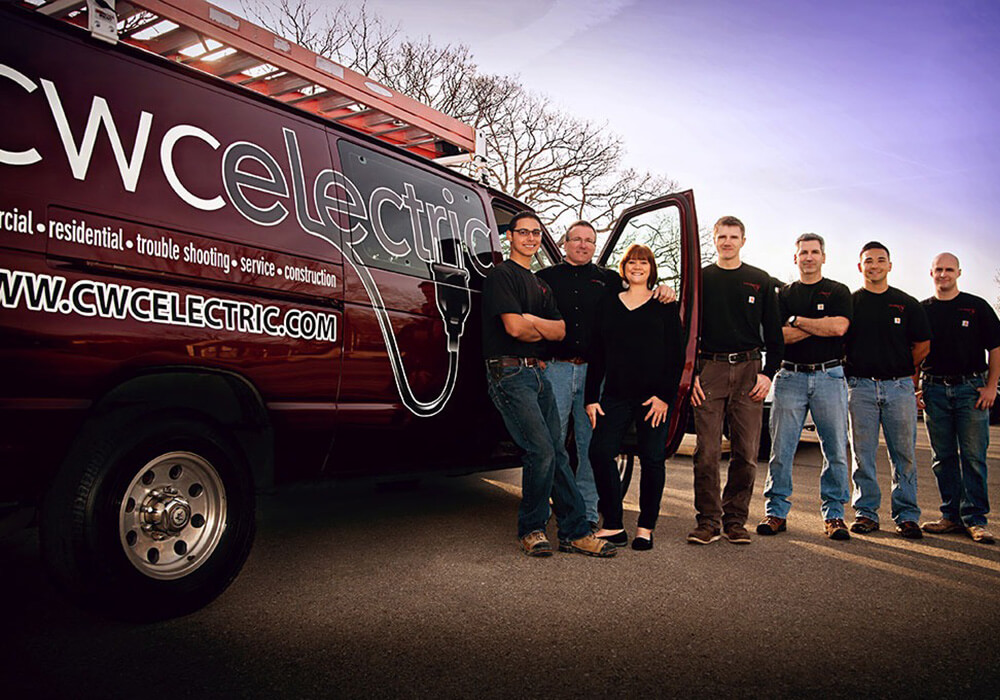 Chuck and Natalie Hogan took a leap of faith when they purchased CWC Electric in December of 2012. In part because entrepreneurship in and of itself can be a challenge, but primarily because Chuck had cancer, creating an even more uncertain future.
"We were basically staying in our old jobs for the health insurance," Natalie says. "When we made the jump, we were highly motivated to make it work because there was no plan B."
Ownership of CWC Electric became second careers for both of them. In their first vocations, Chuck was a firefighter and Natalie was a special agent for the Kansas Attorney General's office.
"It was hard to walk away from my job as a firefighter," Chuck says. "But it is a stressful job and you pay a high price for it."
As many firefighters do, Chuck spent his days off working a second job as an electrician. He had been doing electrical work for various companies since he was a child, so the technical knowledge of the business was already there. Plus, both he and Natalie had grown up in families that owned their own businesses, so they were familiar with what entrepreneurship entailed.
Despite knowing all of that, the transition from working as an expert electrician to being an expert businessman didn't necessarily translate.
"It was scary starting out because you are giving up what feels like very secure positions," Natalie says.
"And insurance. And paid vacations," Chuck adds.
Chuck had already left the fire department and was working as service manager for Blue Dot. Having previously managed operations at CWC Electric, when the opportunity came to purchase CWC Electric from the existing owner, Chuck and Natalie didn't even hesitate.
"I had specific ways I wanted to manage customer service, quality and employees," Chuck says. "Owning my own business gave me the opportunity to implement my vision for the company."
Chuck manages the field side of the business—bidding, getting jobs and managing the electricians. Natalie handles the paperwork side of the business—billing, accounts receivable, payroll and marketing.
"Chuck is the face of the business," Natalie says. "I'm very much behind the scenes."
"She's an unpaid employee," Chuck jokes. "Natalie is our volunteer labor that we couldn't function without."
One of the biggest challenges Chuck and Natalie faced when becoming business owners was finding the caliber of employees that fit Chuck's criteria. He insisted on hiring only clean-cut, polite experts that anyone would be comfortable with having in their home.
"We will turn away work before we'll compromise and hire someone we aren't comfortable with," Chuck says.
But employees meeting all of those qualifications can be hard to find. So when CWC Electric attracts quality employees, they do everything in their power to keep them.
In addition to paying competitive wages, CWC Electric offers employees flexible work schedules. Most employees work between 30 and 35 hours a week because they want to spend time with their families. The company dispatcher even works from her house so she can stay home with her children. She fields calls from Answer Topeka and manages the schedules online from a home computer.
"You may hear kids in the background when she calls you back," Natalie says. "But that's OK with us because we're a very small, family-oriented company."
Chuck says customers don't complain. In fact, most of them appreciate the family atmosphere and like that approach to business. Many repeat customers develop relationships with the electricians and actually ask for one by name when they call for service.
Even though the business has been profitable since the day they took over, Chuck says the challenge has been to keep expenses low. That is why the world headquarters of CWC Electric is in the Hogan's living room. They also keep costs down by purchasing used fleet vehicles and keeping inventory levels low.
"I don't want to burden the company with a lot of debt," Chuck says. "Right now we just need to make sure our electricians have the tools they need to do their jobs right."
That means each electrician has his own truck full of tools and supplies. The trucks are also equipped with GPS technology to help make scheduling more efficient. Chuck says the equipment inside of the truck is often as expensive as the truck itself.
All of these things require capital. When CWC Electric needed operating cash, they turned to Envista Credit Union.
"Erik has been a Godsend to us," Chuck says. "We wouldn't be where we are today without his guidance and support."
Chuck readily admits that their three biggest partners in having the business run properly is their accountant, their attorney and their banker.
As they look into the future, Chuck and Natalie expect additional growth. They envision a building to house the business—including office space. They want to provide additional training for their electricians and eventually hire more employees—not out of a selfish desire to be more profitable, but as a way to offer more people good paying jobs.
"We don't think of our crew as employees," Natalie says. "We think of them as seven families who depend on us for their livelihoods."
When they find the right building, the Hogan's want to keep that family-oriented atmosphere in place. So they plan to include a children's play area so employees can bring their children to work.
As the business continues to grow, operations, reporting and finances become more and more complex, they know where to turn when they are ready.
"When you start out, you don't know what you don't know," Chuck says. "We have great experts telling us what we need to know."
Both Chuck and Natalie agree that one of those experts who has been with them through this journey has played a vital role in their success: Erik Evans, manager of business services with Envista Credit Union.
"Erik really is a valuable member of our team," Natalie says. "He works seamlessly with our accountant and our attorney to advise us on the best way to move forward."
"He has gone above and beyond for us," Chuck adds. "We can't express how much he has helped us."
Right now business is booming. Schedules are full. Chuck credits this success to quality work and excellent customer service.
"Our customers become our friends and that relationship continues long after the job is done," Natalie says.
Besides working toward growth, the plan for the future of CWC Electric also includes developing processes so that if something were to happen to Chuck, the business would continue operating. Part of that plan includes a map for succession.
Their son-in-law, Brian Russell, who is a master electrician, has been with the business since day one. Their son, Joel, who is a journeyman electrician, joined the business in September.
"The legacy will continue," Chuck says. "They are just as competent as we are."
---
Photo by Rachel Lock
Article written by Lisa Loewen
Lisa Loewen teaches journalism at the University of Kansas since 2004 and is editor-in-chief of TK Business Magazine. Her extensive writing experience includes magazine, newspaper and broadcast, advertising copy for print and television, as well as academic articles.