View all posts
Townsite Tower: Not Your Grandfather's Office Space
By: Samantha Egan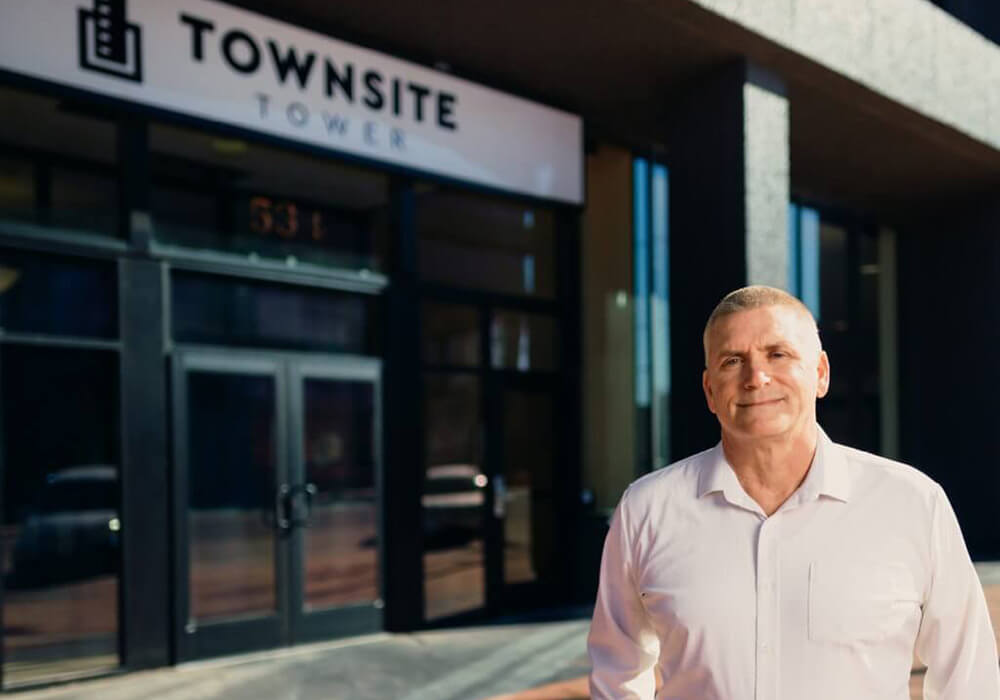 K1 Realty transforms Townsite Tower into a modern place to work and celebrate
In under two years, Townsite Tower, home to several Topeka businesses and the event space formerly known as "Top of the Tower," went from a tarnished treasure to a shining new jewel in downtown Topeka's revitalization.
The transformation is the work of Ken Schmanke, owner and founder of Townsite and K1 Realty. Schmanke's mission to breathe new life into the 16-story building began during the lockdown in July 2020. Restless for a new project, Schmanke used the downtime as an opportunity to grow his business. A few months and three new team members later, K1 Realty had purchased Townsite Tower and the three outdoor areas that make up Townsite Plaza.
"It's a large building with a lot of opportunity," said Grace Schmanke, the head of marketing and design at Townsite and K1 Realty. "Ken thought downtown was becoming something special and wanted to be a part of it."
Lockdown was a prime time to do renovations since occupancy in the building was at a low. After securing funding from Envista Credit Union, the K1 Realty team dug into its capital improvement projects, starting with their office space.
Schmanke and team transformed the floor plan from several small rooms to one big, open office space with a conference room. A black and white color scheme with gray and navy accents gave it a modern look.
After K1 Realty's office space was complete, they started chipping away at other parts of the building, applying the same look and feel to the other office spaces and common areas. They also renovated the lower level to include an open floor plan event space, now called the Townsite Avenue Ballroom.
"We took it out of the 1970s and gave it a modern look," said Schmanke.
Knowing employees can't thrive on sleek interiors alone, K1 Realty took over the lease on the Townsite Café, demoing the space and hiring a new chef. While the Café is designed to be an amenity to office tenants, it's also open to the public, offering $5 – $7 lunch specials Monday through Friday.
"We didn't want the price to be $10 because we knew that people would then be packing their lunches," said Schmanke. "It's been a hit. We have a lot of people who eat lunch at the Café every single day."
Perhaps one of K1 Realty's biggest projects was revitalizing Townsite 16, formerly Top of the Tower, known for its 360 windows that give a sprawling view of downtown. The K1 Realty team modernized the space with all-white walls, new chandeliers and a new open floor plan.
"We wanted to make it an asset to Topeka and give it that updated feel that a lot of downtown is trying to achieve," said Schmanke. "It's so clean and modern, it can be transformed for whatever event you want."
Since K1 Realty took over the space, Townsite Tower went from 63 to 73 percent occupancy – without using any paid advertising. Now a team of 20, K1 Realty plans to keep making improvements to the space.
"We've put a lot of money and time into it. It's a thriving project for sure," said Schmanke. "We want to keep making changes and let people know that Townsite is a place you want to be."
---
Photos by John Burns
Article written by Samantha Egan