View all posts
The Hickory Stik Keeps Hutchinson Wanting More
By: Samantha Egan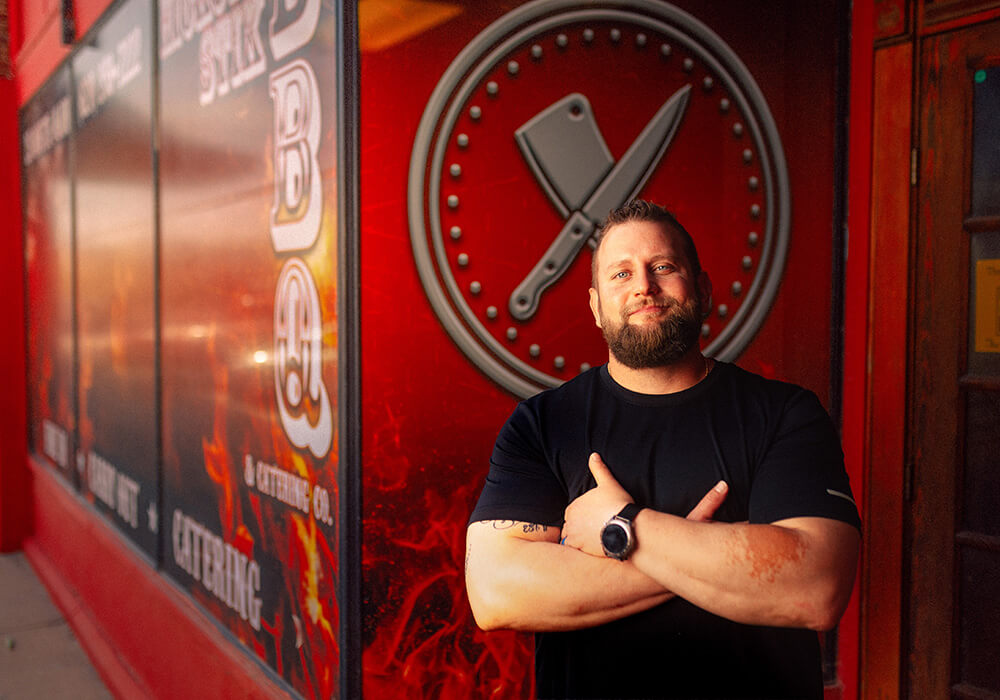 After being in the food business since he was 15 years old, Aaron Bruce was ready to sink his teeth into his own venture. Now almost five years into owning The Hickory Stik BBQ & Catering Co. in Hutchinson, Kansas, Bruce has led his restaurant through both exciting growth and the pandemic that forced him to shut his doors for four weeks. Despite being his biggest challenge, the shutdown gave Bruce a renewed determination to keep on growing.
The Hickory Stik is a partner restaurant to Woody's BBQ in McPherson, owned by Bruce's business partner. Serving fresh-from-the-pit dishes and classic barbeque sides, the restaurant offers both in-house dining and catering services. While the menu is mouth-watering, Bruce believes the dedication from his family and his staff makes The Hickory Stik something special.
"The people who work here believe in it so much, and that's what separates us from everyone else," Bruce said. "Anyone can make good food, but if the people around you don't believe in what you're doing, it shows, from the way the dishes look to the way the customers feel when they come in."
From the beginning, Bruce has trusted Envista with The Hickory Stik's business accounts. He started his relationship with Envista because of his business partner, but the customer service he experienced led Bruce to build his own relationships.
"Whether I'm at the teller window or inside the branch, everyone has been so nice," said Bruce. "I'm in hospitality, so those interactions mean a lot to me because it's what I do every day."
Since opening his business, Bruce has worked with Envista to get a personal loan to purchase a van that he uses for the business. Having a trusted banking partner in Envista also helped Bruce navigate the pandemic when business was anything but usual.
"I never had any questions that couldn't be answered," said Bruce, who worked with Envista on change orders and other banking matters when his business temporarily closed in April 2020. "I'm thankful for having their partnership through all of this."
Bruce said it was terrifying to go through such uncertainty just two and a half years into his business – but he also felt confident The Hickory Stik would pull through. His confidence was soon echoed by his customers. While Bruce focused on deep cleaning and selling any perishable goods he could, the community focused on supporting local businesses through Rally Reno, a program created by Hutchinson/Reno County Chamber, Hutchinson Community Foundation, and United Way of Reno County. Through Rally Reno, customers purchased gift cards online to help keep businesses afloat.
Not expecting any help, Bruce was shocked when he opened the mail one day and found checks funded by The Hickory Stik supporters.
"My breath was taken away by how many people loved us," said Bruce. "It was a very inspiring moment for me. The fire was already lit, but it made it burn brighter."
Since reopening, Bruce has been in growth mode, purchasing additional smokers and fryers and expanding The Hickory Stik's alcohol menu. Even two years later, things haven't slowed down.
"Once we reopened those doors there was no looking back," Bruce said. "It has just been a blessing, and now we're just working to keep up."
---
Photos by John Burns
Article written by Samantha Egan