View all posts
Kona Ice: Continued Expansion
By: Samantha Egan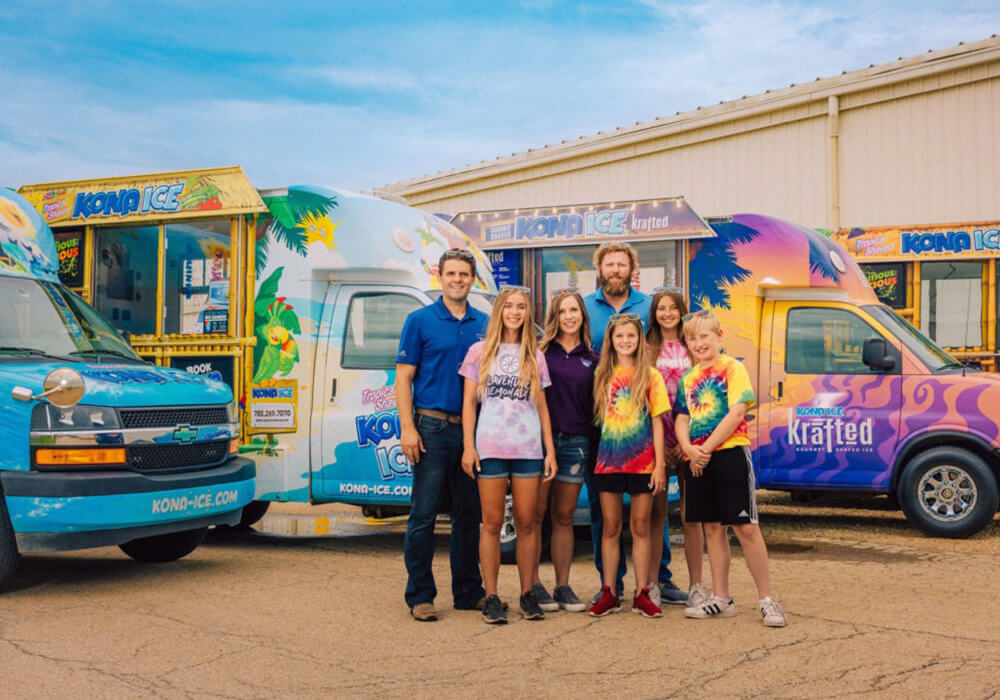 Despite a global pandemic, the last few years have been huge for Kona Ice.
When we last checked in with owner Matt Douglas in 2015, his goal was to expand his franchise to 10 units. Today, he spreads the joy of shaved ice through a fleet of nine that includes: five trucks, two trailers, one kiosk and a mini truck. Beyond units, Douglas' growth also includes four additional franchises, more staff and a loyal following of supporters who look forward to seeing Kona Ice at community events.
Beyond serving Topeka, Douglas, who has since quit his 8 – 5 job to "go full Kona," now runs franchises covering Lawrence, Manhattan, Salina, Emporia and several small towns in between.
To keep up, Douglas and his managing partner, Jay Weber, added a manager to their team to operate the Manhattan and Salina Markets. During Kona Season, Douglas employs anywhere from 15 to 20 employees. His favorite employees are his two daughters, his niece and nephews. Now ages 14 and 11, Douglas' and Weber's kids continue to take an active role in the business. While they may not be old enough to drive the truck, once parked, each of the four kids can seamlessly work events on their own.
"They have fantastic people and money management skills," said Douglas. "I get excited about how they've grown in their responsibilities."
While Douglas saw his franchise grow by leaps and bounds in his first few years, the pandemic threatened to bring it to a halt. In March 2020, Douglas canceled 500 events. Facing a suddenly empty calendar, he and Weber tried something new.
Taking on the ice cream truck model, they made daily rounds in neighborhoods. Douglas recalled moms who cried at the sight of the Kona Ice truck coming down the street, relieved at being able to give their kids a bit of joy in the height of uncertainty.
"Those families needed us," said Douglas, "It was such a blessing to spread some joy and provide a sense of normalcy for families."
Douglas and Weber soon found themselves inundated with requests all over Kansas. The demand kept them busy until in-person events picked back up.
Now, Douglas said things are returning to their pre-pandemic volume. From fundraisers to big-ticket events, like Country Stampede and the Kansas Men's Basketball National Championship celebrations, Kona Ice has witnessed some of the community's most meaningful moments. But their main focus remains on schools.
Since launching Kona Ice, Douglas has partnered with over 150 schools to help them fundraise for things like parent-teacher organizations, field trips, sports teams and more. Since he launched, Douglas' franchises have given back almost $200,000 to local nonprofits and schools.
"Although it's a national brand, Kona Ice is really a mom-and-pop business," said Douglas. "We want to give back."
Through his launch and expansion, Douglas has turned frequently to Envista as his banking partner and advocate.
"They gave us a chance," said Douglas. "At the time, food trucks weren't something that was very common for them, but they wanted to learn."
Douglas not only relies on Envista for business accounts, he also turned to his local branch when he needed to quickly get more units to keep up with demand.
"I thought we were going to leave a lot of bookings on the table because of lack of equipment," said Douglas. "Envista made it easy for us to grow our business."
For Douglas, more growth means more happiness for customers.
"Our family and our employees love people, love getting to meet people from every walk of life, and most importantly just being able to brighten someone's day with shaved ice, a penguin truck and music that makes you want to dance," Douglas said.
---
Photos by John Burns
Article written by Samantha Egan