View all posts
EnvistaCares Challenge Results Announced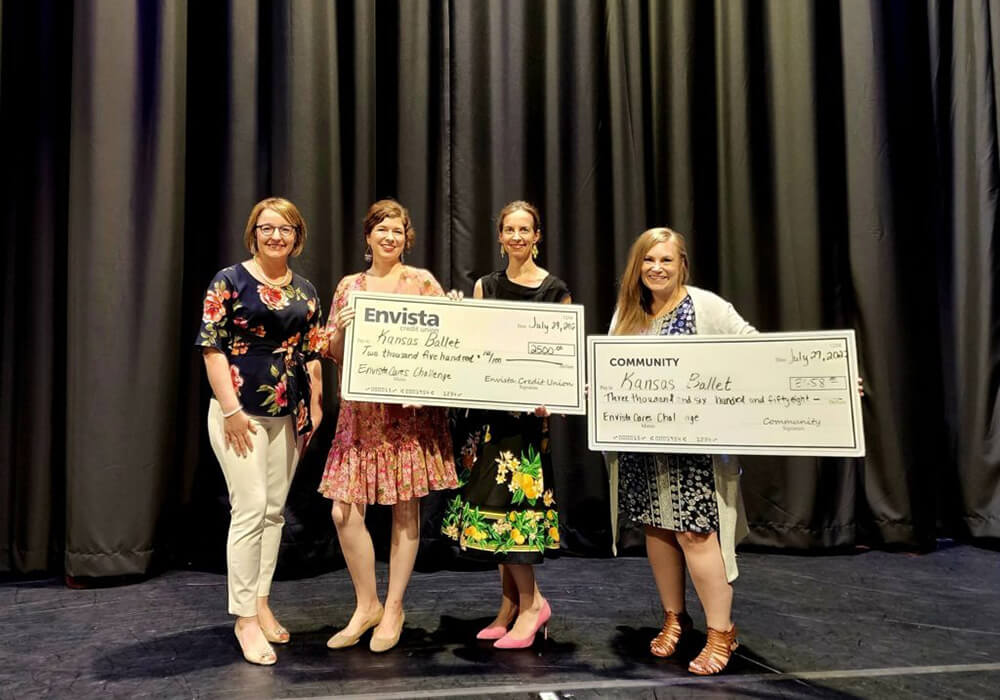 Kansas Ballet and Envista Credit Union are pleased to announce that Kansas Ballet's program, Ballet Stars, will receive the EnvistaCares Challenge gift of $2,500 from Envista as a match to the generosity of the community's donations of $3,658 In total, Ballet Stars received $6,158 in donations during the month of July.
"Ballet Stars is an educational program created by Kansas Ballet in 2016. It is completely free of charge and we bring it directly to children where they are. Since its inception, Ballet Stars has served hundreds of Topeka area children with free ballet lessons as well as lessons on nutrition, social and emotional wellness, and general school-readiness skills. Research shows that classical ballet supports and enhances academic performance in all students. It has also been found to improve self-esteem, memory capacity and the ability to participate and interact appropriately in a team setting," said Amy Reazin, director of outreach for Kansas Ballet. "We are excited to be the July EnvistaCares Challenge non-profit and appreciate their support, along with the support from the Topeka community!"
"Our goal at Envista is to lead, inspire and make an impact with our giving," said Tara Dimick, chief business development officer for Envista. "We are honored to support Kansas Ballet and the Ballet Stars program. We are inspired by their commitment to increase access to classical ballet programming and instruction to underserved youth in Topeka."
The EnvistaCares Challenge was created in April of 2019 and has helped raise more than $600,000 for local organizations. The Challenge includes an in-kind gift to the organization of a media buy that is valued at more than $12,000 and a $2,500 challenge grant. The media buy includes radio, emails, online ads, billboard, social media and interviews. The challenge gift provides a dollar-for-dollar match up to $2,500 for gifts given during the month that the organization is spotlighted. In 2021, Envista added the production of a storytelling video that the organization could beyond the EnvistaCares Challenge experience.