View all posts
EnvistaCares Challenge Results Announced
10/12/2022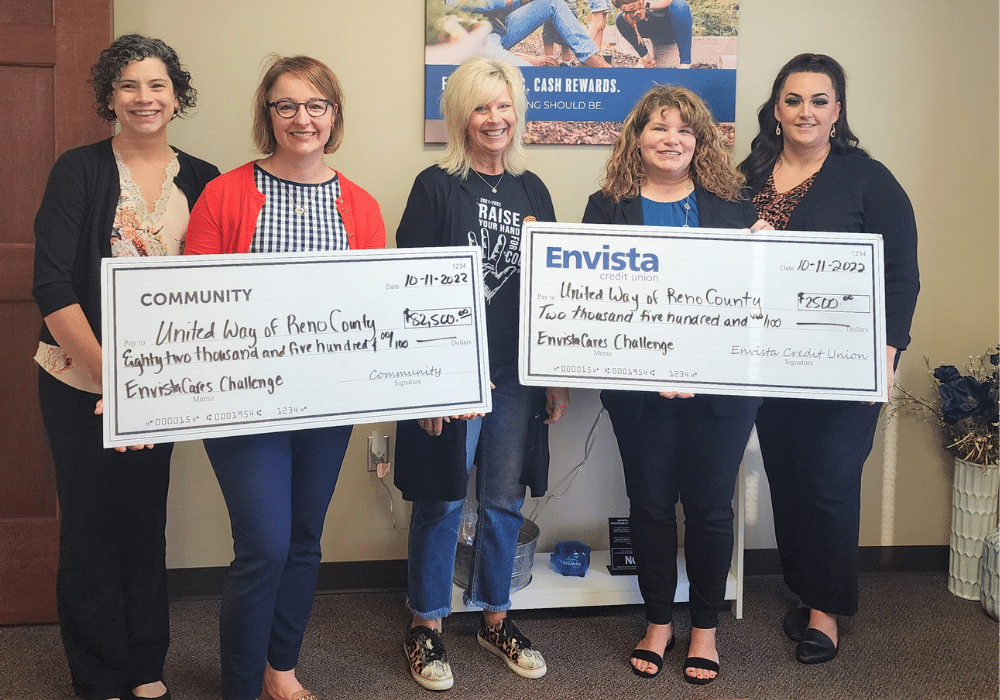 United Way of Reno County and Envista Credit Union are pleased to announce United Way of Reno County will receive the EnvistaCares Challenge gift of $2,500 from Envista as a match to the generosity of the community's donations of $86,886. in total, United Way of Reno County received $89,386 in donations during the month of September.
"Living United' is a call to action in Reno County, Kansas. We are united in our quest to help our fellow citizen recover from disaster; we are united in our efforts to create financial stability in our community; and we are united in our goal to provide quality education and health resources, said Dawn Johnson, USD 308 superintendent and board chair for United Way of Reno County. "I'm proud of the quality of work and the people who make United Way of Reno County a leading organization in our community. We appreciate the support of Envista and our community to help us continue this mission."
United Way of Reno County works to advance the education, income and health of Reno County residents to ensure every child succeeds, every step of the way from cradle to career and beyond. United Way responds to the needs of our local community while simultaneously addressing the root causes of key issues. They achieve this by inspiring and uniting the power of individuals, the business community, and the public and nonprofit sectors around this common goal.
"Our goal at Envista is to lead, inspire and make an impact with our giving," said Holly Herman, branch manager for Envista Credit Union in Hutchinson. "We are honored to support United Way of Reno County and come alongside the 2022 community campaign. We are inspired by their leadership in Reno County."