View all posts
EnvistaCares Challenge July Results Announced
08/01/2023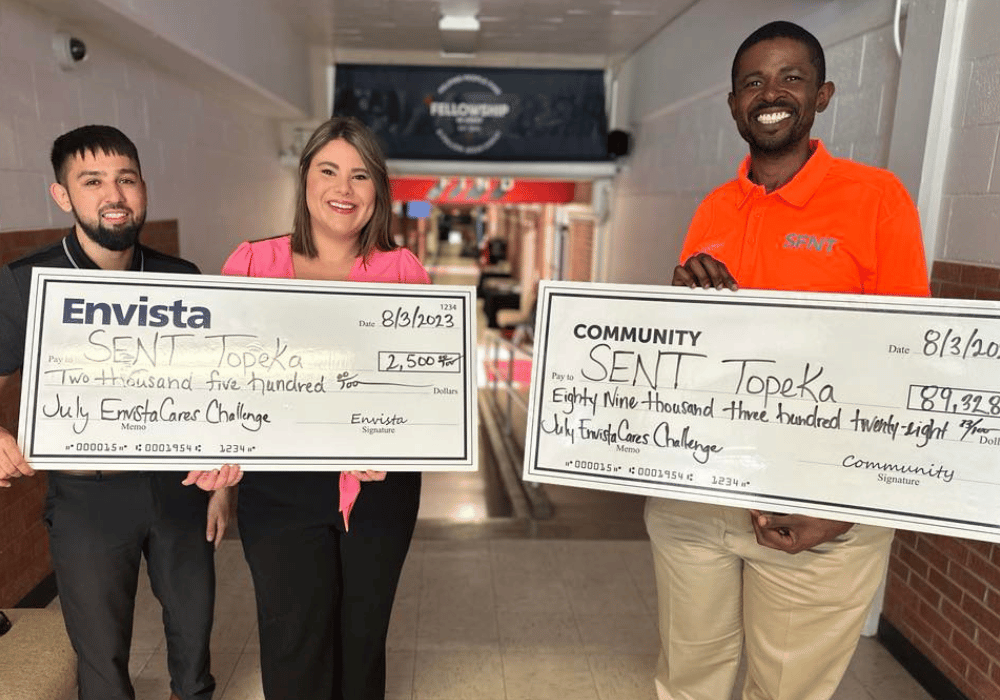 SENT Topeka and Envista Federal Credit Union are pleased to announce that SENT Topeka will receive the EnvistaCares Challenge gift of $2,500 from Envista as a match to the generosity of the community's donations of $89,328. In total, SENT Topeka received $91,828 in donations during the month of July.
"SENT Topeka is all hands-on deck, transforming neighborhoods in our community; they're truly invested in the well-being and growth of their residents as 'community transformation requires individual change.' We're happy that the EnvistaCares Challenge can come alongside the work SENT Topeka is already doing to honor the individual and help people thrive," said Erika McNeill, engagement coordinator for Envista.
"Our vision is the holistic transformation of neighborhoods in Shawnee County. By supporting SENT Topeka through the EnvistaCares Challenge, the community has helped our education pillar provide a quality K-12 seat for every child in our neighborhood, assisted in making mental and behavioral health both available and accessible, and supports our proactive approach to health, ensuring families have access to healthy food options through our local market. Together, we can change the narrative of so many neighborhoods that have been written off," said Johnathan Sublet, interim executive director and founder of SENT Topeka.
The EnvistaCares Challenge includes a challenge grant and a media and marketing package. Through the challenge grant, Envista matched the first $2,500 donated to SENT Topeka during the month of July. The media package provided by Envista is valued at $10,000 and included a month of promotion through emails, social media, radio, and more.
The EnvistaCares Challenge was created in 2019 and has helped raise more than $700,000 for local organizations. Envista Federal Credit Union helps members achieve their financial goals by providing quality products and services. Envista currently has approximately $540 million in assets and serves more than 45,000 Kansans with offices in Topeka, Lawrence, and Hutchinson. For more information visit www.envistacu.com.